吾妻小学校 (Azuma shougakkou) Azuma Elementary School is a public elementary school in Azuma.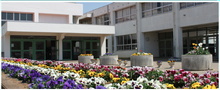 The school is an internationally focused elementary school that has students from around the world. As of summer 2015, they have welcomed students from 27 countries. With a view of the Tsukuba rocket ship nearby, students enjoy a spacious campus with pool, sports field, playgrounds, an on-site study garden, and indoor gym that hosts kendo practices in the evenings a few times a week.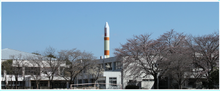 It is located within walking distance (7 minutes) of the CREO Square shopping district that includes Q't (pronounced "cutie"), Aeon, and Seibu malls.
Address:
Azuma 2-chome-16
Tsukuba, Ibaraki Prefecture, Japan 305-0031
Phone: +81 29-851-7101
Azuma Elementary School (site is in Japanese)
Ad blocker interference detected!
Wikia is a free-to-use site that makes money from advertising. We have a modified experience for viewers using ad blockers

Wikia is not accessible if you've made further modifications. Remove the custom ad blocker rule(s) and the page will load as expected.