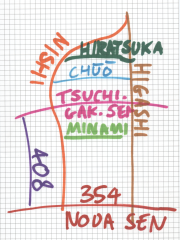 Route 408 is also known as Nishi Odori for part of its length.
This runs from north to south through Tsukuba, going past the MAFF lab complex and RIKEN and ending up in Ushiku.
Ad blocker interference detected!
Wikia is a free-to-use site that makes money from advertising. We have a modified experience for viewers using ad blockers

Wikia is not accessible if you've made further modifications. Remove the custom ad blocker rule(s) and the page will load as expected.