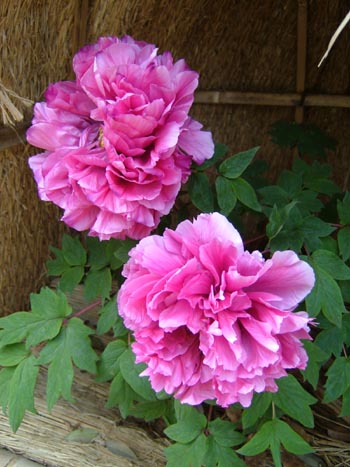 The peony flower garden in the Kukizaki area of Tsukuba specializes in "botan" (peony) flowers which can be as big as 20cm across. They are usually at their peak during Golden Week in early May. The 50,000 square meter garden has approximately 8,000 peonies, 6,000 shakuyaku (a cousin of the peony), and 80,000 lilies. In terms of sheer scale, this park outclasses all others in Japan.
Open April to June 9:00 - 17:00. November to February 10:00 - 16:00. Closed March, July to October, Wednesdays (except in January, February, and May). Admission: April to June Adult 800yen/Students 300yen. November to February Adult 500yen/Students 200yen. .
Public Transportation: 20min by bus, 15min by taxi from Ushiku Station on the Joban Line.
Car: Proceed down Science Odori towards the Yatabe Interchange, and turn left at the light just before Science Odori crosses over the Joban Expressway. There is a gas station on the left-hand corner. Proceed down this road over the expressway and straight on for about 2.2 km. (If you come to a fork in the road, you have gone a little too far). Turn right (signs on both sides of the road). The peony gardens are located a couple hundred meters ahead next to a cemetery. If you continue on the main road another couple of km, you'll come to the Takasaki Shizen no Mori in Kukizaki. Its specialty is fields of poppies which bloom from early May. It's located just past Tsukuba Soai Hospital on the right.
Ad blocker interference detected!
Wikia is a free-to-use site that makes money from advertising. We have a modified experience for viewers using ad blockers

Wikia is not accessible if you've made further modifications. Remove the custom ad blocker rule(s) and the page will load as expected.